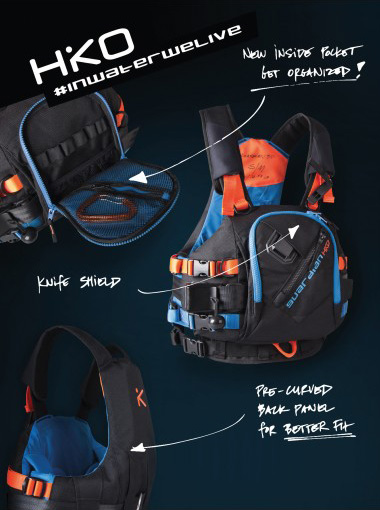 Introducing Hiko GUARDIAN 3D - our latest whitewater PFD
Developed in cooperation with the Hiko TEAM whitewater paddlers, the new Hiko GUARDIAN 3D is designed to provide maximum safety on the most challenging river runs. It has an internal webbing construction sewn to the outer material giving maximum strength and safety during rescues. Large front pocket with a divider has elastic loops to keep all your carabiners and prussicks safely in place. Safety harness with a quick release buckle is held in place by a set of webbing loops.
This PFD has side entry and full body foam wrap for added protection.
New GUARDIAN 3D is available in three attractive coulour combinations: Waikiki (black with blue & orange details), Inferno (red with orange details) and Stealth (black).
- Designed for kayaking, rafting, canoeing and swiftwater rescue in extreme whitewater.
- Thanks to its unique 3D construction it's great for freestyle use as well.
- Precisely designed 3D construction has unparalleled respect for the human anatomy.
- Unique telescopic side lock system prevents both front and back panels from sliding upwards so that flotation stays in place when exposed to turbulent whitewater. Additionally, the side foam protects the rib cage from possible impact.
- Padded shoulder straps feature an adjustable system to accommodate for the height of a paddlers torso and preferred position of the vest (high for kayaking / low for rafting). When fully tightened, the shoulders maintain a range of flexibility that is limited in full extension for safety.
- An integrated safety strap system is structured both vertically and horizontally throughout the PFD.
- A large front pocket with zipper entry has separate compartments for easy access and features an inner zipper pocket on the lid to keep the contents tidy. The lash tab knife holder houses the knife tip into an integrated cover (In order to prevent the knife from catching when entering a raft from water).
- Neoprene pocket located on the shoulder accommodates an integrated safety whistle.
Link to GUARDIAN 3D product page here